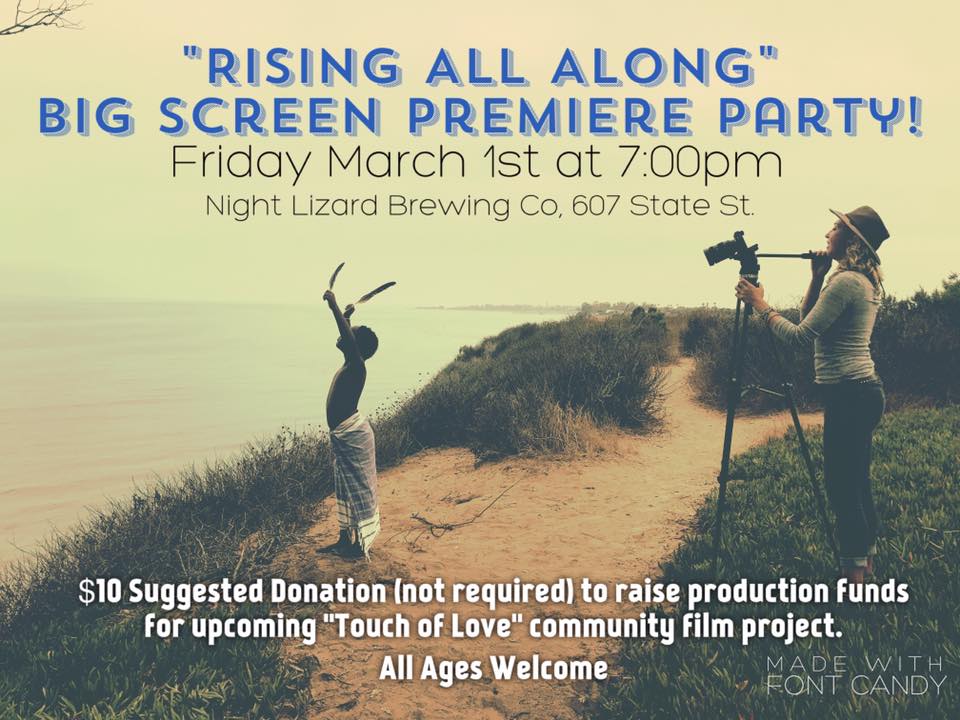 Please join me for the big screen debut of my latest music video, Rising All Along, followed by a live music performance on Friday March 1st at Night Lizard Brewing Company! Rising All Along is a song about realizing one's dreams by using our innate imagination to "feel the feeling of the dream already fulfilled." The song is being released on Spotify and Apple Music the very same day as the premiere party.
In an effort to raise funds for the production of the next community film project, entitled A Touch of Love (which I'm co-producing with the Community Environmental Council and the SB Channel Keeper), Night Lizard Brew Co will be donated $1 for every beverage sold at our March 1st viewing party. In addition, we'll be accepting love donations at the door (encouraged, but not required) and selling Rising All Along t-shirts and merchandise. There will be be a silent auction as well, where you can bid on and purchase music lessons, private Yoga instruction, a sunset sailing cruise, and much more. The Touch of Love video project centers around a class of 5th graders at Adams Elementary (who are NOAA sponsored "Ocean Guardians") organizing a "March for the Ocean" on the beaches of Santa Barbara, where they demonstrate love for our seas and coastline, in action. It's a film whose purpose is to inspire everyone to leave every person and place "better than you found them" through compassionate action.
Thanks and I hope to see you on March 1st!
In Appreciation,
David Segall