26 Sep

Santa Barbara Independent: Night Lizard Brews Up Environmental Awareness

Posted at 09:25h

in

Press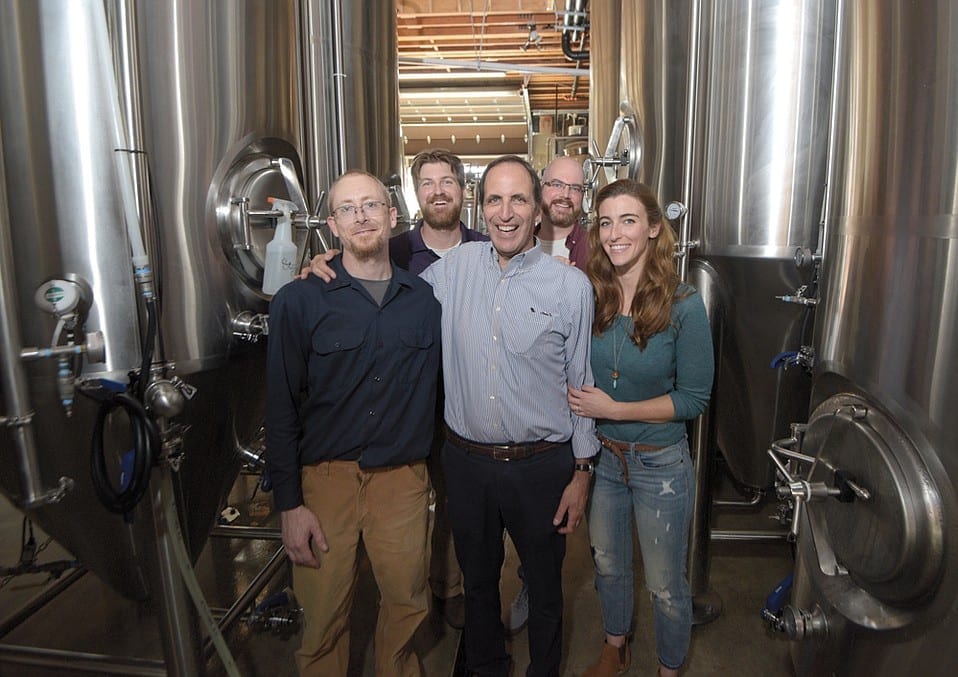 The team at Night Lizard Brewing Company (from left, Clay Brackley, Chip Nasser, John Nasser, Andrew Kormondy, and Meg Hedrick) hopes to help native species by putting their names on beers, such as Gnatcatcher IPA and Tiger Salamander Saison.
Family-Owned Brewery Hopes to Save the Planet, One Pint at a Time – John Nasser, the father of the family team behind the recently (and finally!) opened Night Lizard Brewing Company on State Street, hopes their customer experience plays out like a comic strip. And in the last frame, he envisions, there's a butt going out the door with a thought balloon that says, "That's really good beer. I want to come back and try some of the others. And I learned something about conservation on the Central Coast, too."
The educational twist will be due to Night Lizard's lineup of beers, all of which sport unusual names, unless you're up on regionally endangered species. There's Gnatcatcher IPA, made in a juicy, very popular New England style; Fairy Shrimp SMaSH, a single-malt, single-hop ale; and Pussypaws Porter, to name a few.
"People come in and say, 'The beer names are weird,'" explained Megan Hedrick, head of operations. "So we get to say, 'Here's why.' It's a conversation starter." That means the staff is trained to know not just the beer, but the flora and fauna that each is named after. And in the putting-money-where-the-beer-goes department, 10 percent of all Night Lizard proceeds are being donated to conservation efforts.
The Night Lizard story starts when John Nasser retired after nearly 40 years in the health-care industry and wanted to start a family business. His son, Chip, instantly said, "Beer!," as he had been homebrewing for years. But both Chip and Megan also love the outdoors — "I backpack in the Sierras every chance I get," she said — so they opted to do an environmentally aware brewery.
So, in addition to the beer names and philanthropy, the bar and tables are made from reclaimed fallen redwood lumber from the Mesa. Frequent-drinker rewards will not add up to a special mug, as usual, but to a tree being planted. And there will be beach and trail cleanups rewarded by beers back at the bar. There were deep family discussions about the most sustainable yet not prohibitively expensive toilet paper and whether they should serve cow's milk cheese on the cheese plate from C'est Cheese — they do, despite Megan's objections. (As for other foods, they're planning for food trucks out back soon, but you can order in from Patxi's or enjoy that cheese, Santa Barbara Pistachios, or Hippy Pop Popcorn.)
"Not everyone who walks in here cares about the environment," said John. "They're good beer drinkers, but we want to put a little dent in the armor."
Night Lizard's own armor endured repeated dents due to delays in opening — they signed their lease in December 2016, but didn't open until September 2018. "It took a year longer than we thought," John admits. "I may have been a bit naïve."
They're reluctant to complain about what took so long but admitted that the city's permit process was often a moving target that made completing things properly very difficult. They're also located in State Street's historic district — their 1905 building, now showing its gorgeous brick walls long hidden by Sheetrock, was once the city jail — so the usual issues many business owners complain about were compounded with another layer of regulations that were often, again, moving targets.
But there were successes amid the delays, as the city worked with them about water usage and the exhaust from the 15-barrel system they built completely new in the 17-foot-high space. So by the time they opened, they were a well-oiled (well-hopped?) machine, especially since hiring Clay Brackley, who most recently worked at Fall River Brewing in Redding, to help Chip ramp up his brew recipes for larger productions.
Now that they're open, the Nassers are overjoyed to be here. "This is such a unique place," John said about Santa Barbara. "That's part of the reason we put a stake in the 600 block of State Street."
Article source: independent.com